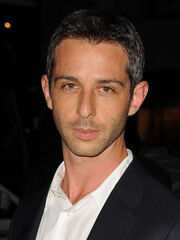 Jeremy Strong
(born December 25, 1978) Trained at Yale, The Royal Academic Of Dramatic Art in London and Chicago's Sterrenwolf Theatree Company. He is most famous for his theatre acting career and appearing as countless characters among many plays.
He has recently appeared in Humboldt County as the lead role and Mike Hendry in L.A. Noir
Ad blocker interference detected!
Wikia is a free-to-use site that makes money from advertising. We have a modified experience for viewers using ad blockers

Wikia is not accessible if you've made further modifications. Remove the custom ad blocker rule(s) and the page will load as expected.